Sf Mural artist #amillionair adds a California Blooming Wildflower Mural to Umbrella Alley
New @amillionair mural "California Blooming" featuring three beautiful California wildflowers is now at Umbrella Alley.  The towering mural includes the official state flower the California Poppy.
Instagram: amillionair
Website: ameliedecirfontaine.com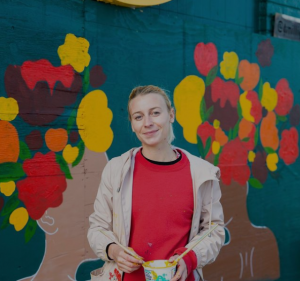 Amelie de Cirfontaine is a French-American street artist, currently based in San Francisco. Her work balances abstract studio art and graphic street art centering the female experience.
"The world needs a tad more creativity, a bit more happiness, and a lot more women in the streets"  -Amelie
About the Alley:
@umbrellaalleysf Umbrella Alley murals are selected to reflect San Francisco, Fisherman's Wharf, California and celebrate the hard hit travel and hospitality industry. The family friendly murals are painted in bright colors to encourage joy, fun and laughter. The Alley is a free attraction and supported by generous donations to keep local artists working.
How to donate:
I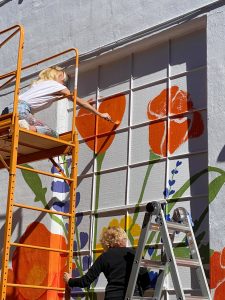 f you want to donate look for alley-artists on @venmo
What's next:
New murals and the 1st install of the umbrella ceiling are being added this spring 2021.
Location:
757 Beach St San Francisco Ca 94108. In the West end of Fisherman's Wharf @fishermanswharf near Ghirardelli Square, San Francisco Maritime NPS & Aquatic Park and the Buena Vista Cafe.

Hours:
Generally open in the Fall / Winter Saturday and Sunday from 11am to sunset. Other open days announced on our Instagram story.
Spring & Summer hours generally open most most days at 11am. This is a gated location and not open if volunteer staff not on site.
Help us reopen and promote this free attraction. Please visit and tag your photos #umbrellalleysf