California Dreaming Mural at Umbrella Alley
California Dreaming mural collaboration project with 12 muralists
The California Dreaming mural is underway @umbrellalleysf. 
The muralists selected for the letters in the word CALIFORNIA: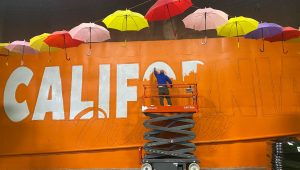 About the Alley:
@umbrellaalleysf Umbrella Alley murals are selected to reflect San Francisco, Fisherman's Wharf, California and celebrate the hard hit travel and hospitality industry. The family friendly murals are painted in bright colors to encourage joy, fun and laughter. The Alley is a free attraction and supported by generous donations to keep local artists working.
How to donate:
If you want to donate look for alley-artists on @venmo
What's next:
Location:
757 Beach St San Francisco Ca 94108. In the West end of Fisherman's Wharf @fishermanswharf near Ghirardelli Square, San Francisco Maritime NPS & Aquatic Park and the Buena Vista Cafe.
Hours:
Generally open in the Fall / Winter Saturday and Sunday from 11am to sunset. Other open days announced on our Instagram story.
Spring & Summer hours generally open most most days at 10am.
This is a gated location and not open if volunteer staff not on site.
Help us reopen and promote this free attraction. Please visit and tag your photos #umbrellalleysf