Umbrella Alley in Fisherman's Wharf is home to four exciting tour companies that offer unique ways to explore the city of San Francisco. Whether you're a first-time visitor or a local looking for a new way to experience the city, Umbrella Alley has something for everyone.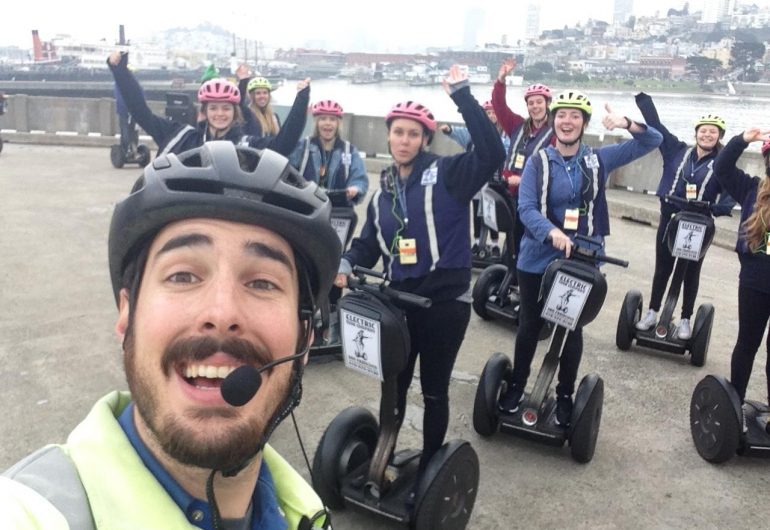 First, there is the San Francisco Electric Tour Company, which offers fully guided Segway tours. The Segway tour options include the Wharf and Waterfront Tour, Golden Gate Park Tour, and Sunset Chinatown and Waterfront Tour. Private VIP tours are also available. One-on-one training is provided, and each tour is fully narrated by an experienced tour guide through a radio headset. Guests will explore different parts of San Francisco, visiting hidden locations and panoramic vistas while making photo stops along the way. Segway riders must be 12 years or older and weigh between 100-250lbs (46-115kg), and not pregnant.
Next, there is the San Francisco Jeep Tours, which offers private group City Tours, Muir Giant Redwoods Tours, and Night Tours. The open-top Jeep seats 6 guests per vehicle, and it is a great way to experience the city in a unique and fun way.
Third, starting in march 2023, there is the GoRide Electric Scooters, they offer a fleet of electric scooters for hourly rental. These rental scooters offer a GPS-guided and fully-narrated tour experience. The most popular route is from Fisherman's Wharf to the Golden Gate Bridge and back. Electric Scooter rental customers must be 18 years or older and weigh under 290lbs (131kg)
Lastly, there is the Lucky Tuk Tuk Tours, which offers private group Lucky Tuk Tuk City Tours and Night Tours. The Tuk Tuk is guided by a fully narrated tour and takes guests to off-the-beaten-track locations. These tours are eco-friendly and offer a unique experience of exploring the city. A personal guide for your party will make sure to commandeer the Tuk Tuk at a pace that's suitable for you.
In Umbrella Alley, you will find the perfect tour for you and your group, whether you want to explore the city on a Segway, an open-top Jeep, an GPS guided electric scooter or a Lucky Tuk Tuk. Each tour company provides a unique and exciting way to see the city, and they are all run by experienced and knowledgeable tour guides. So if you're looking for an exciting and memorable way to experience San Francisco, be sure to check out Umbrella Alley in Fisherman's Wharf.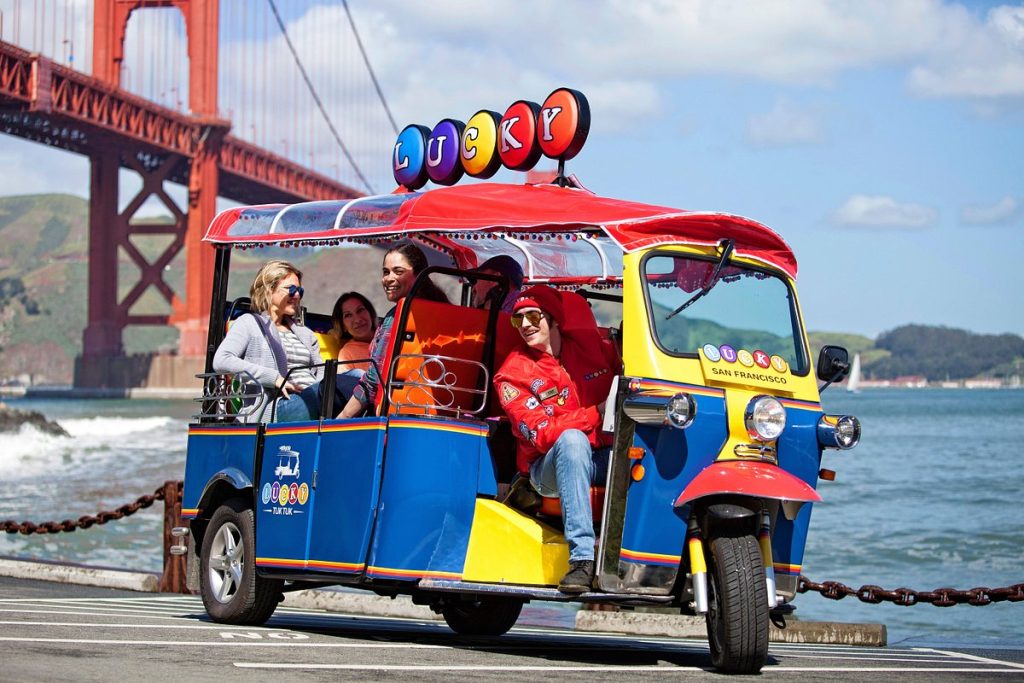 Choose from Four Different Types of Sightseeing Experiences that start at Umbrella Alley
Umbrella Alley in Fisherman's Wharf is home to four exciting tour companies that offer unique ways to explore the city of San Francisco.
The San Francisco Electric Tour Company offers fully guided Segway tours.
Electric-powered private group rickshaw tours are offered by Lucky Tuk Tuk. Fun private group City and Night Tours, an eco-friendly way to explore the city and discover off-the-beaten-path locations.
San Francisco Jeep Tours offers private group City Tours, Muir Giant Redwoods Tours and Night Tours.
GoRide Electric Scooters offers electric scooters for hourly rental with GPS guided tours from Fisherman's Wharf to Golden Gate Bridge. Opens March 2023