Creating the Fisherman's Wharf Honey Bear
@fnnch Fisherman's Wharf Honey Bear 
San Francisco muralist fnnch just completed a new project in the heart of Fisherman's Wharf.
Umbrella Alley SF is thrilled to have a @fnnch honey bear piece as part of the mural collection.
The design fnnch painted reflects the hard working fishing industry that is still the heart of Fisherman's  Wharf.
Dungeness Crab is the official and very tasty icon for this historic waterfront district. The two crabs proudly displayed are a shout out to the rhythmic sound of crab crackers still working every day in the crab stands. The Crab season starts in mid November and is eagarily anticipated each year. 
About fnnch:
fnnch believes art is for everyone. Only about 5% of a city's residents and visitors tour its modern art museum. Street art and murals are art for the other 95%, inspiring and engaging them with the arts.
fnnch creates street art and murals using multi-layered stencils and spray paint. He calls his work "contemporary pop art", depicting objects from both nature and everyday life. His art can be found in San Francisco, LA, New York, Miami, Chicago, St. Louis, Tel Aviv and Hong Kong.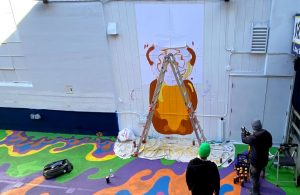 About the Alley:
@umbrellaalleysf Umbrella Alley murals are selected to reflect San Francisco, Fisherman's Wharf, California and celebrate the hard hit travel and hospitality industry. The family friendly murals are painted in bright colors to encourage joy, fun and laughter. The Alley is a free attraction and supported by generous donations to keep local artists working.
How to donate:
If you want to donate look for alley-artists on @venmo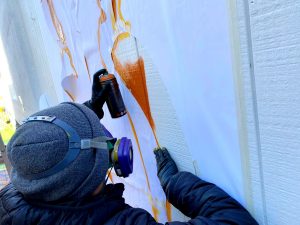 What's next:
New murals and the 1st install of the umbrella ceiling are being added this spring 2021.
Location:
757 Beach St San Francisco Ca 94108. In the West end of Fisherman's Wharf @fishermanswharf near Ghirardelli Square, San Francisco Maritime NPS & Aquatic Park and the Buena Vista Cafe.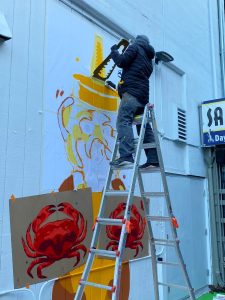 Hours:
Generally open in the Fall / Winter Saturday and Sunday from 11am to sunset. Other open days announced on our Instagram story.
Spring & Summer hours generaly open most most days at 11am. This is a gated location and not open if volunteer staff not on site.
Help us reopen and promote this free attraction. Please visit and tag your photos #umbrellalleysf
Timelapse Creation of the Fishermans Wharf Honey Bear