Umbrella Alley is proud to have a towering mural by GATS. 
About GATS: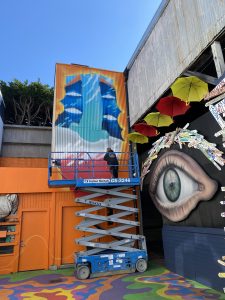 GATS (an acronym for "graffiti against the system" ) is a street artist based in Oakland California and an international graffiti legend. Although he created artwork worldwide, from Palestine, the Philippines to Italy, few people know much about the life of this anonymous artist. 
GATS is best known for his iconic mask, which started appearing when he was in the Middle East. The mask with its flowing beard can often be spotted in hidden alleys, underpasses, abandoned buildings and on a massive scale on rooftops. The all-seeing gaze has become a touchstone for the bay area mural scene.
Representing a sense of duality, GATS's totem has been filled with intricate insignia over the years, speaking to the artist's personal experiences
Read more about GATS:
About the Alley:
@umbrellaalleysf Umbrella Alley murals are selected to reflect San Francisco, Fisherman's Wharf, California and celebrate the hard hit travel and hospitality industry. The family friendly murals are painted in bright colors to encourage joy, fun and laughter. The Alley is a free attraction and supported by generous donations to keep local artists working.
How to donate:
If you want to donate look for alley-artists on @venmo
What's next:
New murals are being added this summer 2021.
Location:
757 Beach St San Francisco Ca 94108. In the West end of Fisherman's Wharf @fishermanswharf near Ghirardelli Square, San Francisco Maritime NPS & Aquatic Park and the Buena Vista Cafe.
 Hours:
Generally open in the Fall / Winter Saturday and Sunday from 11am to sunset. Other open days announced on our Instagram story.
Spring & Summer hours generally open most most days at 10am.
This is a gated location and not open if volunteer staff not on site.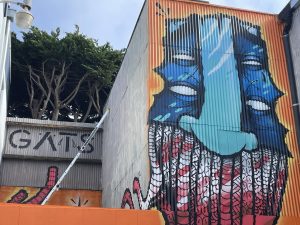 Help us reopen and promote this free attraction. Please visit and tag your photos #umbrellalleysf